The 2020/21 Betfred Cup Final takes place on Sunday (28th February) at 2pm as Livingston and St Johnstone face off at Hampden.
It's great to see different clubs to the usual compete in a cup final and I've been really impressed with how they've built some hype in the run up to the final. This site has zero interest in what happens on the pitch, so ahead of the final I decided to pick out some of my favourite things both clubs have done in the build up.
---
Wishing They Were There…
They'll, of course, be no fans at Hampden on Sunday. It's huge shame for both sets of fans to be missing out on this opportunity for one of their clubs to lift a trophy.
St Johnstone have approached it, rather cheekily, but almost hitting it home to fans that they won't be there.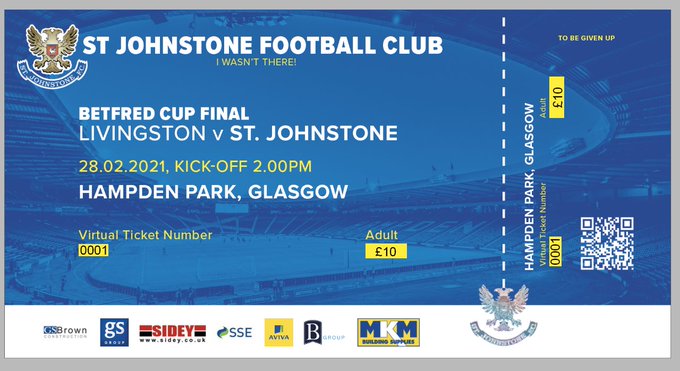 That "I Wasn't There" tagline on their souvenir tickets, available to buy for £12 including postage, commemorates the thousands of Saints fans who would've been marching in on Hampden on Sunday.
There wasn't any fans at the semi finals either of course, but Livi have been doing their best to ensure the image of Scott Robinson's celebration becomes iconic across the fanbase. It received the Wallpaper Wednesday treatment this week too.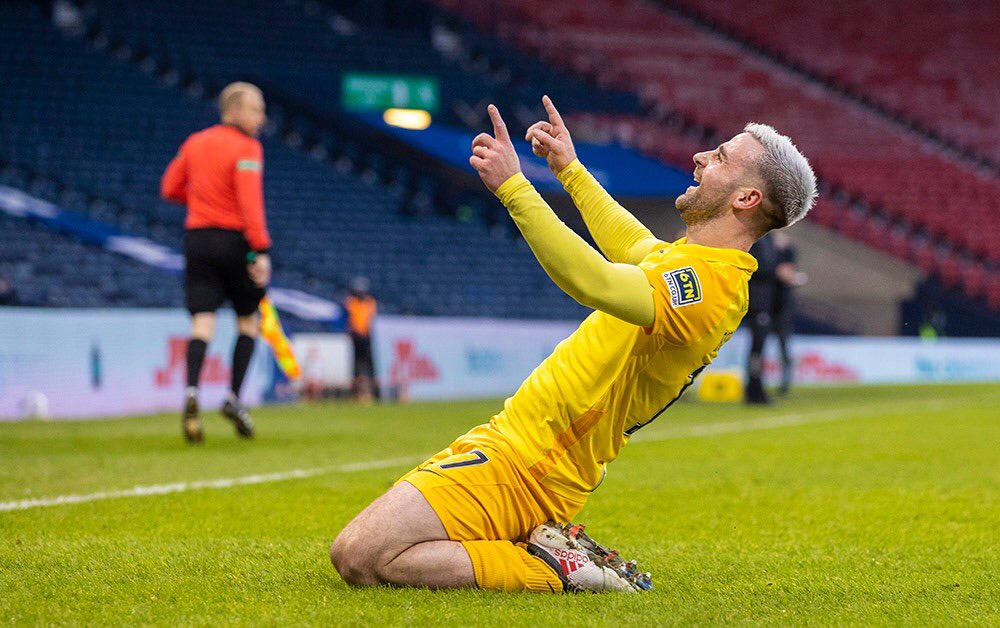 Capitalise on the Opportunity
Cup finals are a great opportunity for clubs to make a little bit more money from fans and capitalise on that good feeling surrounding the match.
That souvenir match ticket is already one example, but the Saints have released a few more options for fans to snap up ahead of the final. Their Cup Final replica kit run sold out within a few days, and it looks as though the scarves and mugs to commemorate the occasion have also already been snapped up as well. The additional merchandise was showcased by a carousel Tweet as well, which is always nice to see, and one that St Johnstone have utilised a fair bit this season so far.
🆕 | Some of you may have already noticed, but we have ourselves a brand new online shop 😍

This is the only place to get all your official St Johnstone merch!

Massive shout out to @SJFC_SLO who has worked night and day to get this all sorted!

Click below to shop now 👇#SJFC

— St. Johnstone FC (@StJohnstone) February 19, 2021
They've also produced a commemorate souvenir magazine which is filled with exclusive interviews and features with players who've played in the Saints other three major cup final appearances. It also features contributors such as Stuart Cosgrove and Eilidh Barbour and author Ed Hodge, who previously worked for Scottish Golf. They've already sold almost 500 of these.
Livi have done exactly the same. Alongside a few of their partners, special cup final products have been produced and were available to purchase. A Betfred Cup final gin was up for grabs in partnership with Dundee Gin, a rum box in partnership with Liv Rums (who seem to have also coined the term Martindale's Magnificos, which I love) and you can make sure you own one of the players allocated two match shirts which will be signed. I say you can, these were snapped up in 22 minutes according to the club. They've used the occasion to do some good as well.
⚽️| After the success of the cup final gin last night, we've got more brilliant, #BetfredCup memorabilia up for grabs, but this time, all in aid of @WLFoodbank.

With only 11 of these available, they're sure to be snapped up fast!

🔗 Full details here – https://t.co/MZVdatcs0P pic.twitter.com/4vgl7oGO05

— Livingston FC (@LiviFCOfficial) February 23, 2021
These official Betfred Cup balls only took 27 minutes to sell out in aid of West Lothian Foodbank. Lovely stuff.
A Chance for Fans to Win
Who doesn't love a competition? Clubs should have been encouraging this kind of engagement from fans much more this season while we've not been able to get to matches. I'd like to think Saints fans have inundated Ross' inbox with their blue and white home setups.
📸 | COMPETITION

How blue and white can you make the place you'll be watching next Sunday's #BetfredCup Final?

Send your pic to rosscunningham@perthsaints.co.uk to have a chance of winning a signed Saints shirt and signed programme.

Full info ➡️ https://t.co/IGyJPYez7d#SJFC pic.twitter.com/WpTJLX7BWs

— St. Johnstone FC (@StJohnstone) February 19, 2021
Future Fans
I say future fans, they're obviously fans right now, but they'll remember their experiences like this and remain fans forever more. 12 randomly selected members of the Junior Saints Club have been chosen to be St Johnstone's virtual mascots for Sunday's match and they got to chat to manager, Callum Davidson, and captain, Jason Kerr, ahead of the final.
Fun to co-organise (with @SJFC_SLO) tonight's @StJohnstone virtual mascots Q&A session with Callum Davidson and Jason Kerr.

We'll get some of the best bits online this week including what band the manager likes to dance to and @JasonKerr08's favourite dinosaur.#SJFC pic.twitter.com/71Gpi3wnii

— Ross Cunningham (@RCunningham_MMM) February 24, 2021
Young Saints were also encouraged to draw pictures of their favourite player, or the manager. The club Tweeted out all of the entries, and acknowledging every entrant went further as they all received a signed player photo and programme. The little things go a long way. The overall winner of the competition received this plus a signed shirt as well. Lovely stuff.
Livi have encouraged young fans to get involved in predicting the final score, along with setting them a bit of homework as well by writing a mini match report. Why wouldn't you want to potentially win some signed Livi player playing cards as a young Livi fan?
🦁| One for the Lion Cubs!

Send us in your score predictions along with a mini match report with how you think the game will go & we'll get manager @Daviemar13 to pick his favourite, with the winner receiving the goodies pictured!

📧 Entries to – dave.black@livingstonfc.co.uk pic.twitter.com/69J6lS81M0

— Livingston FC (@LiviFCOfficial) February 25, 2021
Paint the Town
I'm always a sucker when clubs go offline and paint their towns and cities with their colours. While this example wasn't the club directly, they were involved in assisting with it, it's great to see Perth painted blue to back the Saints. These things just make sense to me in one-club towns or cities, though do obviously usually come with costs associated.
We are delighted to show our support for @StJohnstone (sorry we tagged the wrong account in the first post) and their magnificent achievement of reaching the Scottish League Cup Final this Sunday for the third time in their history. pic.twitter.com/Tmowa7RgWy

— Perth & Kinross Council (@PerthandKinross) February 23, 2021
The club have remembered their online fans too of course, with plenty of them getting involved in this simple win encouraging engagement on Twitter.
🤳 | That's your cover photo sorted but what about your profile pic? Reply below and we'll make one up for you to use this week!!#SJFC #BetfredCup pic.twitter.com/ubv15xbEWB

— St. Johnstone FC (@StJohnstone) February 21, 2021
West Lothian isn't quite being turned yellow… but Edinburgh Airport's traffic control tower is!
✈️| Edinburgh Airport's iconic air traffic control tower will turn yellow this weekend as the terminal shows its support for the club ahead of Sunday's #BetfredCup Final.

🔗 Full story here – https://t.co/3Yae1IpU2q pic.twitter.com/fYMLxv0KCr

— Livingston FC (@LiviFCOfficial) February 26, 2021
Who doesn't love a montage video that includes match footage of their run to the final, historical footage of their previous League Cup final win and fans summing things up throughout? At almost eight minutes it's maybe just slightly too long for me, but that's probably a personal preference. Give it a watch.
It's time for the next generation of heroes.

Fortiter Omnia Vincit. 💛 pic.twitter.com/aRg8aGxbi6

— Livingston FC (@LiviFCOfficial) February 26, 2021
---
Good luck to both clubs for Sunday. It's been brilliant to see the effort gone into trying to build so much interest in the match, especially when fans won't be able to be there to see their team lift the trophy.
If you've got an opinion to share on the business or marketing of Scottish sport then get in touch. Email chris@sportsmarketingscotland.co.uk, or find me on Twitter @sportsmarketsco.